16 good reasons to use Facebook
The second post in this Series is all about Facebook. Everybody is talking about it, but let's take it apart a little and look at what is behind the shiny "face" (bad pun intended 😉 ) If you read my previous post "What is Social Media" you know that this series is designed to see how Social Media platforms incorporate these three indicators:
Offer an easy option to comment and leave feed-back

Make content available and sharable

Provide an opportunity for (open) dialogue
Facebook is the Social Media Networking platform with the most users
Founded in 2004 at Cambridge University Facebook has quickly grown into a Digital Media Giant and is expected to reach 1 Billion registered users by this summer.
If you are into statistics, you will like the graphic below.
If you break down the numbers further we have 50.600 regular Facebook users in my home town - Kelowna, BC (assuming the 2006 census numbers on kelowna.ca)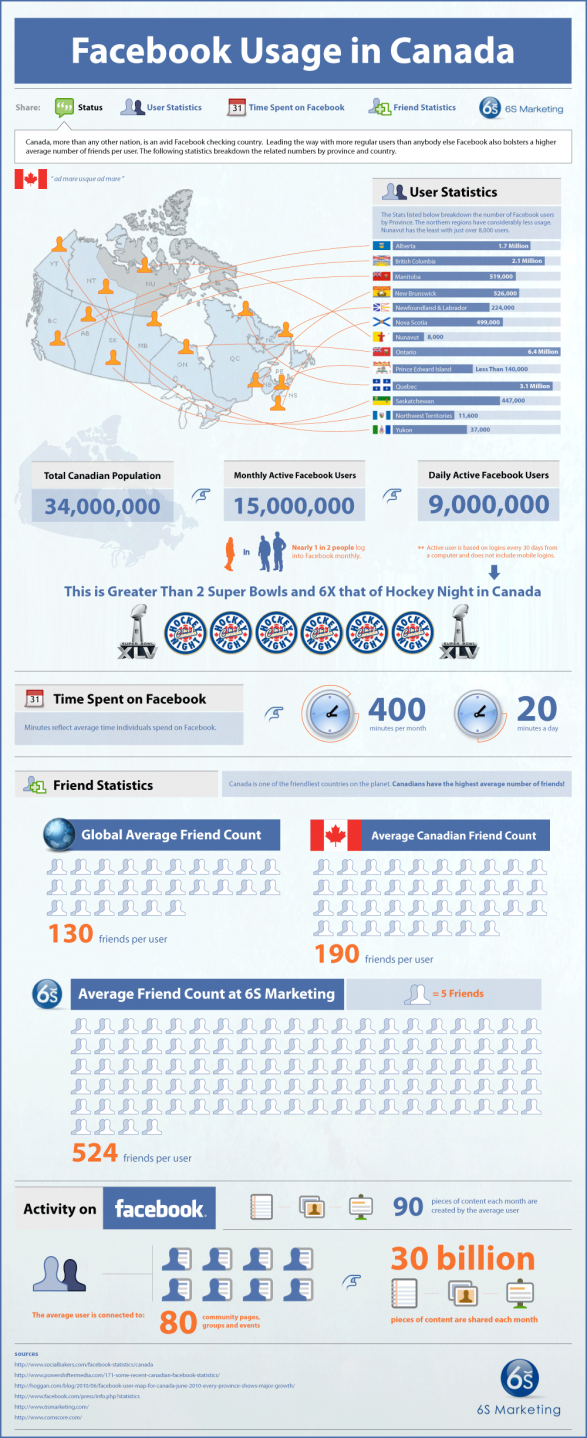 There are many different uses for Facebook: Most people I know use it as a scrap-book to share memorable moments or digital information with their friends. Some share news about their business (please use a Facebook Page!) others play Scrabble, Farm Ville or other Games on Facebook. The fact that so many Internet users are on Facebook makes the messaging features a viable alternative to email.
So, IS Facebook Social Media? No - Social Media is a revolution in the way we communicate, share and consume information and entertainment. But Facebook has successfully managed to create a product that most Internet users accept and like.
8 reasons why we like use Facebook?
For some it is a love-hate relationship but:
Facebook lets us connect with our friends and family internationally

Facebook makes it easy to share bits of our lives

Facebook makes it easy to update a lot of people in one "sweep"

Facebook makes it easy to discover and discuss a topic on the update your connections post

Facebook makes it easy to learn something new about someone that we knew for a while or someone we just met
Facebook makes it easy to share the bits that don't seem to be important enough to call someone about

Facebook makes it easy to recommend a product, or service

Facebook makes it easy to warn a lot of people about a bad product or experience

Facebook makes it easy to organize an activity or an event
The demographics of Facebook users have changed from teenagers to adult users - Facebook is the Social Media platform of choice for
8 reasons why a Business and Organization Facebook:
"should my business be on on Facebook?" The best answer to this question I have ever heard: "if your customers are there, you should be"
Facebook lets business owners connect with their customers

Facebook makes it easy to share updates, specials and offers to my customers

Facebook makes it easy to poll customers about products or services

Facebook makes it easy for customers to share information about a business, product or service with their network

Facebook enables me to answer questions my (potential) clients have

Facebook is an awesome reputation management tool

Facebook Brand Pages are a great way to present relevant content and improve search engine rankings

Facebook fans have a greater brand-loyalty than the general population
So, like most business owners you realize that using Facebook is a smart business decision. But how to build it into your general marketing strategy? How much time do you have to spend? It may be worth-while to get going right and ask a professional for advice
I would love to hear your questions! Please comment below or contact me - I'd love to chat!