Where To Check Your Online Reputation
As Kristin pointed out in her recent guest blog post "Reputation Management - What If Someone Says Something Bad About Me?" it is important to monitor what people say about your brand online.
This is true for both responding to negative comments and criticism as well as finding and amplifying positive mentions.
As I always point out, being present on the most important Social Media pages is important for any brand today. Having a presence on Facebook and Twitter gives customers, and potential customers, the chance to communicate with you directly, ask questions and vent their gripes.
What about comments that are not placed directly on your pages though? The fact that you don't see the comments doesn't mean they are not there! Make sure you monitor your brand!
Below I will introduce the most important ways to monitor your Digital Media Presence. In the meantime
Check out this list on List.ly and add to it if you like.

If you need to find out how your audience is receiving your work, it's worth considering how you've structured the interactions around criticism. Sometimes a customer has a one-off problem, a situation that is unique and a concern that has to be extinguished on the spot.
Good customer service is a cornerstone of successful business; we all know that. Guest post bu Kristin Laprise from WOW Service MEntor
What are places to monitor if somebody says something bad or good about your brand? Google Places, Google Alerts, Yelp and Social Media like Facebook & Twitter

One of the biggest fears some people have about getting involved in social media is the fact that someone could say something bad about you or your company. Why would we want to give people a forum to come and say bad things? Direct sales is often plagued with detractors.

Over at the Toad Stool, Alan Wolk has some good advice for brands out there to stop the inevitable backlash against them when something goes wrong. Don't suck. Alan's a smart guy, and he's clearly being a little glib here in this statement, so I won't get that much into it.
Added by Frithjof Petschelei on Feb 10, 2012

I remember going through a meeting with a client and remembering that they didn't want to be on social networking sites because they didn't want to get negative comments or feedbacks. The thing is, whether or not your company is using social media, someone is talking about your brand on social networking sites like Yelp to review their experience with your brand.

When your friends make the news, we make sure you know. Newsle tracks news about your friends and professional contacts across the web. You'll never miss an important story about someone you care about.
Added by Tanja Buwalda on Sep 13, 2012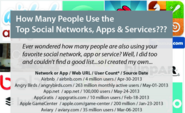 This post was originally published on 11/29/10 but revised and expanded today. Many times, I am requested to quote on website projects for businesses that have long been established but have never had a website. I always start by Googling the business name and most of the time, find many results about the business.
Added by Janet Stelske Janowiak on Jan 24, 2014
Every Business should claim their Google Places location! Places show up above the organic Google search results and are worth more than most of the SEO $$ people spend. Google Places gives you the opportunity to brand your listing and add details as well as images, videos and specials.
They also give everyone the opportunity to write reviews! If you don't monitor these reviews you could end up with problematic responses right on top of the Google search results!
(Please contact me if you need help with setting up your Google Places)
Especially if you have a unique business name you should set up this handy free service. Everytime someone writes your search term online the little Google robots find it and send you an email.
Unfortunately Google stopped indexing Twitter
so I searched for other ways to do the same on Twitter. Let's say someone talks about me without putting @Tweet4Ok in the tweet - cowardly I know but possible 😉 .
These two tools will keep me posted:
Yelp works very much like Google Places - users add reviews via a web interface or mobile apps. Yelp lets you customize your search by categories and your physical location. As a business owner you have the chance to upload your information and images for free. If you have registered your business you get email alerts about the activity on your listings. I'm not sure how much is Yelp used locally but in in the US it is an important tool. Do you have experiences with Yelp? Please leave a comment!
Trip Advisor
As the name suggest Trip Advisor is a tool that lets users recommend and rate accommodations. Tourism businesses are still well advised to have a profile on this site even though the value of the feedback seems to be compromised by some places seemingly boost their ratings artificially.
We are all connected customers! We may be business owners but we are also customers. It should be logical to respond to feedback to either learn, explain or counter criticism.
Have you ever left feedback at a feedback site? What was your experience?
This post was first published as my guest post on the WOW Service Mentor blog