October is Small Business Month – the ideal opportunity to talk about one of my favourite topics: Why Social Media is easier for small business than for larger ones.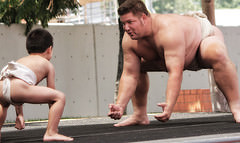 If you are thinking, "What is he talking about? If it was easy for small business to be successful on Social Media fewer would give up." then you are not alone. Unfortunately there are many social media experts out there that don't understand small businesses and try to tell us to use the tools like the big corporations do. Social Media for small business requires different processes to be successful. And small businesses have opportunities for Social Media that large corporations don't.
There are 5 reasons that make Social Media the ideal tool for small business to use:
1. Direct Customer Contact:
As small business owners we usually either have direct contact with our customers or we are in a position to direct our front line staff without the need to consider many layers of our organisations. We are used to talking to our customers. In many cases they come into our store or business. We are used to asking them questions and listening to their needs and suggestions.
With that in mind it is easy to apply these people skills and knowledge of our clients to the way we use our social networks. Social Media offers a great way of helping our happy customers to promote our products and services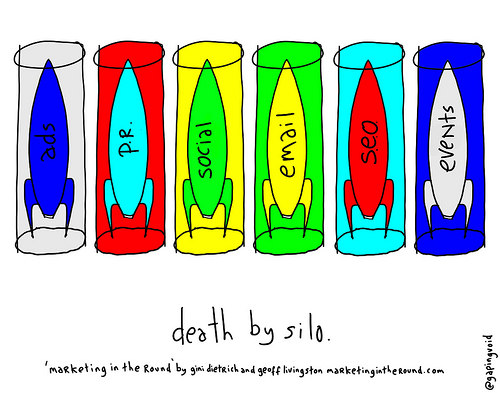 Definition of 'Silo Mentality'
http://www.investopedia.com/terms/s/silo-mentality.asp
An attitude found in some organizations that occurs when several departments or groups do not want to share information or knowledge with other individuals in the same company. A silo mentality reduces efficiency and can be a contributing factor to a failing corporate culture.[/tab] [/tabs]
In larger organizations different tasks are handled by different departments. Resources are divided by department and staff focus on the tasks of their department.
This silo mentality is the reason many social media activities are understaffed and underfunded. Most of the time social media is handled by the marketing department.
But Social Media is so much more than marketing! It covers communication, public relations, marketing, customer service, customer satisfaction, retention….
Since small businesses are rarely big enough to have strictly defined silos and are more flexible the silo mentality does not have to be broken down in order to create a successful social media presence.
While Social Media is not "free" the cost of setting up a blog, a Facebook Page or other Social Media tools is low if compared to buying advertising like radio spots, yellow pages ads, billboards….
The outlay of money can be replaced by creativity and hours spent. Even if you outsource your content creation or use staff time for it you will generally spend less than for traditional advertising.
Social Media has given small business the same opportunities for reaching customers as the multinational corporations have, without the high cost.
4. Flexibility
The biggest advantage of a small business is our flexibility. Smaller organizations can react quicker to changes. Be it the economy, natural factors or competitors small business owners make decisions on the spot.
If there is a new social media tool available that can be helpful we can use it right away. If plans change we can delete or rescheduled messaging ourself or with a simple phone call
5. Personality
Corporations invest millions into creating a brand personality. Today the word "brand" does not mean your logo or your packaging any more, it encompasses how you behave, how you treat your contacts and many other factors.
Today's successful small business owners "are" their brand. There is no need to create a funny character or an "image" used to portrait the brand.
But how?
One of the many reasons why I started Tweet4Ok was to provide small business owners with the tools and know-how to actually use Social Media tools successfully. Too many speeches are made to tell us why we need to use these tools to communicate with our customers but too little useful help for the "how" is out there.
Most of my time focuses on the "how-to" of Social Media. I found a great list of ways small business can use these tools:

But now it's your turn!
Let's collect some success stories about how Small Businesses use Social Media tools. I invite you to add your examples to this list:
Small Business - Social Media Success Stories
I invite you to share your stories about how Small Businesses use Social Media in this list.
This is part of my blog post celebrating Small Business Month 2013
The Post will be published here: http://t4o.me/193OW7O on Monday
Source: http://t4o.me/193OW7O
Oct 05, 2013 - tweet4ok.com -

143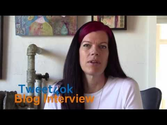 My friend Carrie Harper had a dream and she just made it become reality: She created a collaborative work and education centre right in the center of Kelowna. #heARTschool just opened this weekend and I am looking forward to teaching my first seminar "Social Media for Artists" in this beautiful space next Saturday.

Eagle Eye Adventures was purchase by Dutch immigrants Jos and Rentia Krynen in 2011. Both were experience business people and understood that Social Media was going to be key in their marketing. They spent several months being coached on how to use Facebook in marketing and promotion and by the end of the 2012 Season, they had over 3,000 followers on FB. Taking those posts to Europe's largest tourism tradeshow, they advertised their presence in Social Media heavily. By the middle of the 2013 season, they have tripled their following with over 9,000 Likes. Their engagement during the season has even led to numerous adventure / travel TV shows coming from Europe to check them out!

Destiny River Adventures launched their Facebook and Twitter accounts in April 2013. They were coached from April thru July, learning quickly on what worked and what didn't in Social Media marketing. By June, one of their posts reached over 16,000 people in just over a week. By the end of their 2013 Season (May - September), they were getting a nearly 75% PTAT and sold out pretty much every Snorkel with Salmon tour that season. They are now just shy of 600 likes and are preparing for next season!
Oct 05, 2013 - tweet4ok.com -

137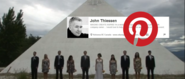 My friend John Thiessen ( @OKDigitalmedia ) is a very successful videographer and has experience growing his businesses for decades. He is also one of the kindest and most inspirational people I know. We have a lot of things in common, including how we approach most aspects of Social Media.
Oct 05, 2013 - tweet4ok.com -

171
The following is a summary of my guest article on Steamfeed When we look at how the Social Media revolution is changing all our lives, it can't be only nail-salons, wedding planners, major brands and celebrities who benefit from the new channels to reach their audiences.

Joe knew exactly what I needed to juice up my website and gave me great suggestions for my business's Facebook page. FAST turnaround and so reasonable!