After my successful seminar Blogging for Business – Blogs Are Like Puppies! I started this little series of articles for those of you who are planning to start blogging or put your blogging efforts on more solid ground.
The first post in the series is here: How To Get Started With Blogging – Find Your Blog Topic
---
How to Find Your Voice
The voices of Luciano Pavarotti, Elvis Presley and Whitney Houston are very distinctive. When you hear them sing, you instantly know it's them. In writing, your writing voice needs to be distinct as well. It should reflect who you are and how you normally talk.
You may be worried that you don't have a distinct voice or you don't know how to find it. However, the good news is everyone has a unique voice and finding it isn't hard.
Blogging is a very verbal-friendly writing genre since you are encouraged to write the way you would normally speak. You can swear (if that's how you always talk); the grammar police are more lenient and slang is accepted. Your speaking voice is almost mandatory in the blogging world if you are going to build a relationship with your readers.
"One word expresses the pathway to greatness: voice. Those on this path find their voice and inspire others to find theirs. The rest never do." ~ Stephen R. Covey
What is your voice?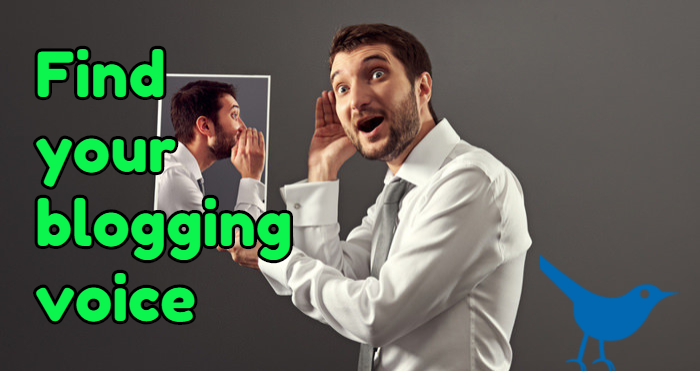 Your blog voice isn't exactly your personality, or what you think your blog topic's personality should be. You blog's voice is what truly connects you with your readers and helps you build trust and a community with your blog.
Your voice is a feeling or style evoked through your writing that helps the reader personalize the words. Your voice is what the reader uses to build a person behind the words and to connect with them.
Your blog voice is unique and exclusive to you. Your writing shouldn't be journalistic. Instead it flows best when you write the same way you talk.
[clickToTweet tweet="Your blog voice is unique to you. It flows best when you write the same way you talk" quote="Your blog voice is unique to you. It flows best when you write the same way you talk"]
Tips for finding your blog voice
If you are having trouble finding your blog voice, there are a number exercises you can do to help.
Pretend you are writing an email to a good friend. For this to work you need to know who your blog reader is. What do they do? What's the age group? Are they male or female? Married with kids? What's her (or his) biggest challenge in life? Her goals and desires? The more you know about your ideal reader, the better you can relate to them with your own unique voice. For example, your ideal reader might be a thirty-something mom of three who loves to do DIY projects but has little time to spare while working full time. She has a sarcastic sense of humor and is quick to respond to a pun.
Next time you're in a conversation with someone, really focus on how you talk. Listen to how you tell stories and share your opinions. Do you use a lot of slang or certain words over and over? Try to recreate this style in your writing. Do you ask lots of questions or get excited near the end of a sentence? The way you speak is the style that is your guide when you are writing.
How do you express yourself? Your writing style should reflect that. You want your content to be as natural and close to your true self as possible. If you speak in incomplete sentences, then write that way. If you are jargon-y, show it.
Describe yourself in three or four words. For example: flirty, funny, crass, snarky. Use these as a guide when writing. If you're the life of the party, your blog content shouldn't be all boring and serious. Inject some humor in it to show your voice.
List at least five blogs and books that you love to read. Compare how they are alike or different. Does each have the same type of voice? Is the writing intelligent, witty or emotional? Often what we enjoy reading the most is what's closest to our own voice.
Take a few minutes a day for a week or two to do some free writing. Free writing is a very unstructured form of writing where you just write whatever comes to mind. Put on some soft instrumental music and write without editing. Go back and read it. This is your most natural form of writing. Try to emulate it in your blog posts. Of course, you don't want to ramble about random things in a single post. However, your free writing will show you your grammar style, your tone of voice and how you use certain words over and over.
Do you enjoy what you are writing at the time you're writing it? If you feel like you've been pulling teeth just to get a short post written, it could be you're not using your own voice.
Finding your voice and injecting it into your blog posts is one of the best ways to build a relationship with your readers. Use your own unique way of talking when you write. Don't imitate other blog writers. You want your readers to get to know you. A unique voice is what helps you build a brand that is recognizable and builds a lasting relationship with your readers.
Unique Selling Proposition: How to Get It
Unless you are the only player in your market, you will need a way to set yourself apart from your competition. One way to do this is with a unique selling proposition (USP). A USP is an instantly recognizable statement that explains how your business is different. A strong USP can make or break your business. It's the cornerstone of all your marketing strategy. Until you have USP, you blog will just be another voice lost in the masses.
You need a USP to help you stand out, no matter what product you're selling or what market you're in. You want your market to think of you when they need what you are offering. A good USP will stick in their memory.
What is a unique selling proposition?
Basically, a USP is that "something" that makes you different from everyone else in your market. It's the marketing point that can help you attract and retain customers.
A USP tells your customers how you can better meet their needs and what makes you special. Your USP essentially tells them why they should buy from you instead of from your competitors. It takes some creativity to come up with a compelling USP, but it's the biggest decision you'll ever make for your business.
How do you find your USP?
Some bloggers will find it easy to identify their USP. But for most, finding your USP isn't that straightforward. You may have to try several out before you hit the one that sticks. The best USP will directly address a specific need of your ideal customer
Let's look at some examples of big businesses with a good USP:
Enterprise: "Pick Enterprise. We'll Pick You Up."
FedEx Corporation: "When it absolutely, positively has to be there overnight."
M&Ms: "The milk chocolate melts in your mouth, not in your hand."
Domino's Pizza: "You get fresh, hot pizza delivered to your door in 30 minutes or less or it's free."
NyQuil: "The nighttime, coughing, achy, sniffling, stuffy head, fever, so you can rest medicine."
So how can you find a USP for your blog?
Your unique selling proposition needs to emphasize that individual quality that separates your blog from your competition. Think about what one thing you do differently that your competition doesn't do.
For example, Lynn Terry's Traveling Low Carb blog distinguishes itself by "Making it easy for you to lose weight while on the go".

Begin by identifying your ideal customer and getting inside their head. What do they want? How can your product solve their problem? What motivates them to buy? What makes them choose your competitors?
How does your business solve your customer's problems? As a blogger, you have to be able to define your reader's problems and fears. Your USP can help define the problem and provide a solution.
How is your blog different from the millions of others? How can you make yours unique? Is your product one that no one else has created? One way to make yourself stand out is with a unique offer. What can you offer that is uniquely yours − a service, support or feature? Offer a unique guarantee. Remember Domino's Pizza and their offer, "Pizza delivered in 30 minutes, or it's free".
What's your big promise? Your biggest benefits? What makes your blog different?
For example, the Recipe Girl blog makes the promise of offering "the best recipes for entertaining and every day".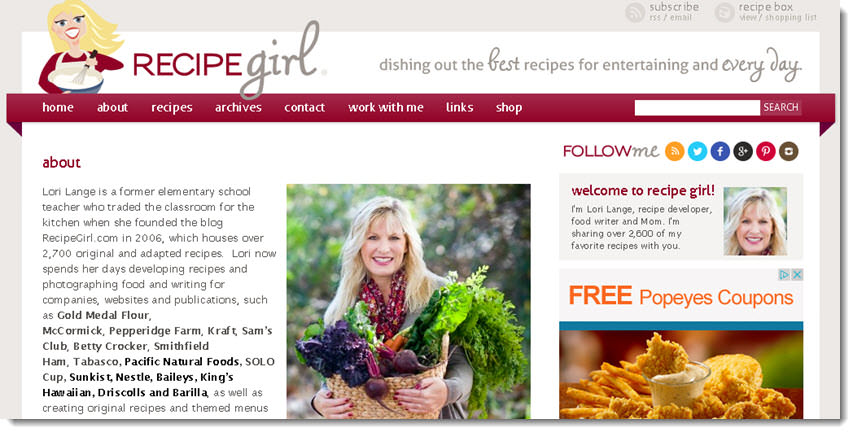 Four ways to differentiate yourself with your USP
Be original and combine two ideas or services. Combine two existing ideas into one. Nerd Fitness did this with their blog. The author didn't target the normal fitness guys. He targeted average guys, nerds, and desk jockeys like himself to get fit.

Offer only one specific service or one specific product on your blog. Focus on offering one exceptional service. Specialize in one particular part of your topic. So instead of being a blog that covers fitness machines, become one that specializes in elliptical machines made by a specific company.
Offer to a very specific target audience. Cater to those who don't normally have a specific blog catered to them. Be a blogger that specializes in single moms of special needs kids under the age of five.
Be the first in your industry to offer the latest products, gadgets, news or whatever relates to your niche.
Your unique selling proposition is the thing that makes you stand out from everyone else. It can be your benefits or your product. A good USP addresses the needs of your market; it's memorable and it connects with your readers emotionally. When developing your USP, you'll need to study your competition, research your market and learn all you can about your ideal customer.
[clickToTweet tweet="Your blog's USP is the thing that makes you stand out from everyone else." quote="Your blog's USP is the thing that makes you stand out from everyone else."]
The Next Step
At this point, you should have a good idea of what your market needs, who your competitors are, have begun developing your voice and created a draft of your own USP.
Begin your blogging brainstorming journey by determining the niche you want to enter. Look at other blogs in your chosen topic to get an idea of the types of income they may be getting, whether from ads or sponsors or products of some type. Browse magazines and Amazon for ideas on the categories and how you could narrow a broad topic.
Do keyword research to see what people are searching for in your chosen niche.  A large number of searches could indicate a profitable topic.
Once you've found your niche, you need to build a relationship with your readers. One way to do this is by having your own unique voice. Your voice is what helps people get a sense of who you are as a person.
If you aren't sure if you are writing in your own voice, take the time to follow the steps in this guide to find it. Do free writing. Ask others what your voice is. Listen to how you talk.
The final thing you need is a good unique selling proposition. Your USP is what people will remember about your brand or blog. It helps you stand out from the crowd.
Take the time to research your market to understand the individual needs and desires your ideal reader has. Your USP might include a specific benefit or service or a guarantee.
With the right niche, your unique voice and a good USP, your blog has a better chance of being a success and being fun to work on every day.
Do these tips resonate with you? Do you have more questions?
[button link="https://businessbluebird.com/get-started-blogging-find-blogging-voice/#respond" style="note"]Let me know in the comments![/button]
The next post in the series goes into more detail about building a strategic blogging plan.
---
Photo credit: Cover image licensed at depositphotos.com