Welcome! My name is Frithjof Petscheleit and this is a minisode of the Bluebird Podcast. Minisodes are podcast episodes that I publish outside of the regular schedule. 
  This episode is from a Facebook live call I had with Matt Stewart – The Bearded Leader on August 18th to discuss the question "Does politics belong in business?"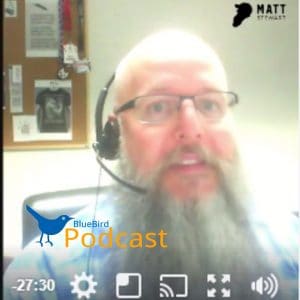 Matt Stewart is a no bullshit activator of potential. His No Excuses, Now What approach has been fostered & developed over the past 20+ years of coaching, collaborating and advising Senior Leaders across North America.   Matt takes this experience as an executive coach to the business leaders of the future by teaching leadership at the Centre for Arts and Technology in Kelowna as well as in giving TED talks and presentations at events and conferences all over the world.   After the events in Charlottesville last weekend where white supremacist groups staged a rally and a terrorist subsequently killed and injured counter-protestors. The world was shocked to hear support for the racist groups from the president of the United States.   This caused many business leaders of small and very large companies to break their silence on political issues and speak out in opposition to the president and the racist views of the protesters.   Both Matt, who teaches executive leadership and I, as a coach to small business people, would usually warn our students about voicing our political views in a business setting. In this recording of our Facebook live event on August 18th we discuss our thoughts about this.   If you would rather see the stream as a video:
What do you think? Should we mix politics and business?