Welcome to Episode 9 of the BlueBird Podcast.
My special Guest today is Michael Cheng, co-founder of Lumen5
Lumen5 is a brand new tool that creates short videos from any link. It uses artificial intelligence to analyze the text content and matches it up with images and video clips from royalty free sites to provide a draft slideshow video with text overlays that you can edit or publish directly.
Here is a quick how-to video I created shortly after discovering Lumen5:
In the interview, Michael and I talk about what prompted the 5 people behind the tool to create it, what it does and what the next features might be. We talk about the fact that Lumen5 is free right now and Michael is very convincing when he says that there will always be a free version.
At the end, we discuss the very interesting principle that customer support is an important part of product development. Michael Cheng strongly believes that customer support should not be outsourced and sees it as a core responsibility of the development team. In my experience with Lumen5 this has proven to be true in the speed and efficiency of the support I received.
Unfortunately, sections of the interview were scrambled by the recording software. I have tried to summarize what was said in the sections that were unusable.
I invite you to listen to the podcast and tell me what you think in the comments or by email: [email protected] .
Links Mentioned
Lumen5: https://lumen5.com/
Problogger Podcast episode 197: https://problogger.com/podcast/facebook-viral-videos-tool/
Here is an example of a video I made in Lumen5:
---
Help me fight youth homelessness this June!
Earlier this year we observed first hand how easily young people can slip into homelessness and how little the Ministry of Children & Families can do to prevent this. We also had the opportunity to witness the wonderful work our local Boys and Girls Club does to fill this gap.
A friend of our teenage son had been kicked out at home and after a few weeks of couch-surfing, we agreed to offer her our spare room as a temporary home to prevent her from having to sleep on the streets. The only alternative the ministry offered her was to spend nights in a shelter. This is a great alternative in some cases, but not in this one. Other than what we could do, there seemed to be no help available and the case was stuck in a bureaucratic jungle for weeks.
The only help came from the local Boys and Girls Club that provided the service of their own social worker that who helped the 16-year-old girl to deal with the situation and stay in school.
We were very impressed by how this organization helps fill the gap between struggling families and government services.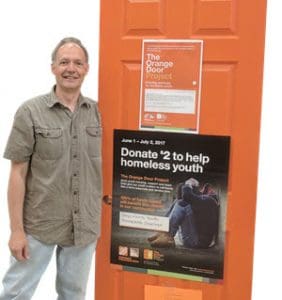 The Boys & Girls Clubs of Canada rely on donations from the public to finance all the work they do. For the month of June, The Home Depot is organizing the "Orange Door Project" where customers can make a donation at the checkout and 100% of these donations go to local Boys & Girls Clubs.
I have decided to support this initiative by donating $10 of any consulting hour booked in June to our local Orange Door Project.
To launch this program I have created new service packages from social media training sessions to "pick my brain" sessions designed to help you improve your social media and content marketing efforts.
There are three ways for you to get involved:
Book a consulting or training session with me. Simply go to the "Pick My Brain" page on my website and find a time that works with your schedule. I will donate $10 from every hour booked to the Orange Door Project
Donate directly to the campaign at Canada Helps https://www.canadahelps.org/dn/30658 (please select the Kelowna store)
Go to your local Home Depot and buy an Orange Door at the checkout
Thank you for helping me to give young people a safe place!
Frithjof
---