Welcome to Episode 8 of the BlueBird Podcast.
My special Guest today is Hugh Culver
Hugh Culver's business enterprises have included creating the world's most exclusive adventure tours, operating a private airline in Southern Chile, pioneering eco-whale watching, and teaching as a university professor.
His adventure exploits have taken him from the Arctic to the Antarctic, from mountain peaks to whitewater rapids and even included golfing at the North Pole.
Hugh is the author of Give me a Break-the art of making time work for you.
His insights and writings on personal leadership are sought after
by leading organizations, including Imperial Oil, Shoppers Drug
Mart, Royal Bank of Canada, Investors Group, Western Union,
Suncor, Telus, United Way, and the Red Cross.
In this podcast episode, Hugh Introduces "Get SOS" to us. The SOS team reads your blog posts and creates a series of social media updates to promote your blog. It doesn't replace the need to be active in your social media efforts (otherwise I wouldn't post this 🙂 ) but it takes care of a lot of the work involved in the content promotion.
Because Hugh and his team are so involved in the blogging world, he also shares helpful blogging tips in general.
I invite you to listen to the podcast and tell me what you think in the comments or by email: [email protected] .
Listen Now
Please Subscribe to the BlueBird Podcast
Links Mentioned
Hugh's personal website: hughculver.com
Get SOS: getsos.net
Tweetables
[clickToTweet tweet="You don't have to be a Hemingway to be a successful blogger [email protected] #GetSOS" quote="You don't have to be a Hemingway to be a successful blogger [email protected]" theme="style6″]
---
Help me fight youth homelessness this June!
Earlier this year we observed first hand how easily young people can slip into homelessness and how little the Ministry of Children & Families can do to prevent this. We also had the opportunity to witness the wonderful work our local Boys and Girls Club does to fill this gap.
A friend of our teenage son had been kicked out at home and after a few weeks of couch-surfing, we agreed to offer her our spare room as a temporary home to prevent her from having to sleep on the streets. The only alternative the ministry offered her was to spend nights in a shelter. This is a great alternative in some cases, but not in this one. Other than what we could do, there seemed to be no help available and the case was stuck in a bureaucratic jungle for weeks.
The only help came from the local Boys and Girls Club that provided the service of their own social worker that who helped the 16-year-old girl to deal with the situation and stay in school.
We were very impressed by how this organization helps fill the gap between struggling families and government services.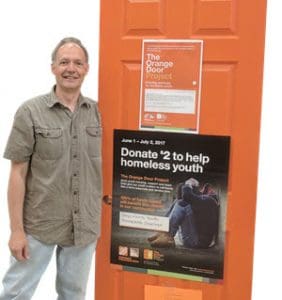 The Boys & Girls Clubs of Canada rely on donations from the public to finance all the work they do. For the month of June The Home Depot is organizing the "Orange Door Project" where customers can make a donation at the checkout and 100% of these donations go to local Boys & Girls Clubs.
I have decided to support this initiative by donating $10 of any consulting hour booked in June to our local Orange Door Project.
To launch this program I have created new service packages from social media training sessions to "pick my brain" sessions designed to help you improve your social media and content marketing efforts.
There are three ways for you to get involved:
Book a consulting or training session with me. Simply go to the "Pick My Brain" page on my website and find a time that works with your schedule. I will donate $10 from every hour booked to the Orange Door Project
Donate directly to the campaign at Canada Helps https://www.canadahelps.org/dn/30658 (please select the Kelowna store)
Go to your local Home Depot and buy an Orange Door at the checkout
Thank you for helping me to give young people a safe place!
Frithjof
---
Sponsors