Every day we use certain terms over and over, often without being able to explain what they mean. As a Social Media coach I am often in situations where I have to explain terms that seem common to me but are not clear to others.
I started a series of blog posts explaining some of these words.
I call this project the BlueBird Dictionary
In the list below I share the posts I have already created and some of the words I am planning to write about. Help me out!
Suggest a new word
Vote for your favourite post
Add a note, a resource or a picture
Thanks!
BlueBird Dictionary


 REPORT



BlueBird
Owner
8
items  
41
views
BlueBird Dictionary
List of blog posts in the BlueBird Dictionary series. Here you can find the words that I explained already and the ones I am planning to write about. Feel free to leave me a note with a link or a resource. I would be trilled if you could suggest a word for me to define and it would be great if you would vote the words up that you are most interested in.
Follow List
Embed List
1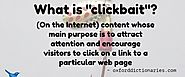 Even the definition of "viral" in the dictionary shows the two main areas the word is used: […]
Upvote
2
We all have heard the words Viral video/ Viral content / Make something go viral / The _____ went viral
Upvote
3
Algorithm is a word that is used widely – but what does it mean?
Upvote
4
Upvote
1
5
Blog

Upvote
6
Podcast

Upvote
7
URL / Domain

Upvote
8
Millenial