You have a new Facebook page and look forward to connecting with your current and future fans. Great!  But how do you tell them that it's there? How do you find an audience? There are many ways and I hope to give you a few suggestions with this post.
But first, what are we really after? The answer depends largely on the type of Facebook page you have but most people pay way too much attention to the number of likes their page gets. Even many Social Media experts confuse volume of followers with engagement. The label "Social Proof"  is often misused to lure page owners to buy into schemes that promise a large number of followers. Translating follower numbers into sales is a habit marketers learned in the old days of push marketing.
But in the vast majority of cases a sensible Social Media strategy should aim to connect with real people. People that will read your content, interact with you and spread your message. You can have a Facebook page with over 5000 likes and nobody interacts with your page. Every day however I see pages with much fewer likes that are engaging their audience in real conversation. The latter gain much more attention, loyalty and valuable input than the pages with artificially inflated numbers.
Lesson learned: Creating valuable content that people want to share is smarter business than impressive numbers.
That being said it is important to get the word out there especially for new pages and there are many ways you can spread the word about your page!
Invite your Facebook Friends. Don't be shy! Your personal friends are usually your best advocates anyway. The people you know personally are your natural advocates online or offline. Facebook even suggests to invite your friends in the page setup process. It may be a good idea to create some interesting content before sharing though.
Invite your email contacts – there are several ways to do this:
Place "Follow me on Facebook" links on your website and your email newsletter
Create signs for your door and your counter!
Include a Facebook symbol including your Facebook address on anything you print – business cards, rack cards, flyers, even billboards!
Then there is the paid Facebook ad of course – Make sure you have your page all nice and ready including some interesting content to show those new fans you attracted by your paid ad. Depending on your market and your goals Facebook ads might be a good solution because you can target very accurately who sees them and how much you want to spend
More and more businesses add Facebook symbols to their TV ads (although most forget to tell us the page address).
I love to use QR codes to let people find my Facebook Page right from their smartphone. I use them on all my printed materials including banners and business cards. I even have one embroidered on my jacket 🙂
Two guidelines are important to keep in mind:
Whenever possible, tell people why they should like your page!

Always include the address or short name of your page so your new fans don't have to search.
Do you have more ideas? Please share them in the comments or on this list:
How to attract real Fans to your Facebook Page
Collection of ideas for a blog post.
Question: You have a new Facebook Page - how do you tell others about it
1
Show sign "Only real fans wanted here" : attractive, shows u care - say "real fans leave comments & show they mean it"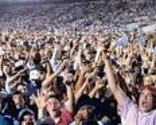 You want to attract "real fans" - do you deserve "real fans"? No point in doing this unless you are worthy of "real fans"

Do you want 1000's of fans for your social media pages? You can get free facebook/youtube/twitter/.. likes/fans/views/.. fast, safe, easy and for FREE. Real fans which will push you into the social spotlight and raise your brand recognition. We use a you like me i like you exchange.

For my clients that have customers coming into their location I make a sign to put on the counter

Jun 05, 2012 - tweet4ok.com -

231

6
Invite Facebook Friends